Class of '75 Goes to Navy/Notre Dame in Dublin, 2020
Posted: 2/4/2019
From Chuck "GQ" Geyer  (sent by email on 03FEB2019)
Hello Classmates!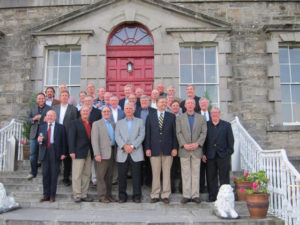 Mark your calendars: The Aer Lingus College Football Classic, 2020.
Dates: Thursday, August 27-Monday, August 31
As some of you may know, in 2012 I put together an alternative to Anthony Travel's official package to Ireland for the Navy vs Notre Dame game in Dublin. We had 32 Flowerchild couples occupy a manor house outside Dublin with activities that included local area tours, a golf outing, Flowerchild dinners, a "Tailgate" and, of course, a blocked Flowerchild seating area for the game.
For 2020 I've again returned to Tenon Tours to put together a similar package. In classic fashion, they have met and exceeded my expectations! This time, our headquarters hotel will be the 
Herbert Park Hotel
  a four star hotel about 10 minutes walking distance from Aviva Stadium. It actually offers a great venue in a convenient location at a very competitive price. In fact, price wise, our four day package is now less than the three day basic package offered by Anthony Travel with even more perks! As you read on, I think that you'll agree: the biggest perk of all is the incredible flexibility and customer service that Tenon Tours offers. We currently have 80 rooms blocked,
 so there is a good chance that we may have a hotel brimming with Flowerchildren!
GOUGE!
1. Tenon Tours is offering a $100 per person early registration discount. This discount is good until midnight on Friday, February 15.
2. There are approximately 80 rooms available at the 
Herbert Park Hotel
  Because of the outstanding location of the hotel and the packages available, there is a potential for these rooms to sell out quickly. If you have decided to attend the Aer Lingus College Football Classic with the Class of '75, strongly consider reserving your package as soon as possible.
3. How to Reserve: This is a big one, as there are MANY pre/post weekend tour options available (see the Choose Your Package" drop-down menu on the Tenon Tour main reservation page). I asked Tenon Tours to build in a lot of flexibility for us, as most, if not all, will want to explore Ireland as part of the visit. That said, you may not have decided on your follow-on tour plans yet. Strong Suggestion: If you are sure that you will be attending the Aer Lingus College Football Classic with Tenon Tours, but unsure of your pre and/or post weekend activities, book the basic Dublin-Only four day package now (to take advantage of the early registration perk), and modify your additional tour plans later. 
4. Custom Tour Option: This is a great perk! Many may be traveling with friends/family/company-mates and will be using the Ireland trip as an opportunity to reunite and spend more time together. As such, I've asked Tenon to assign a "Custom Tour Representative" to assist with planning and executing custom plans for groups. The perfect group size would consist of 6-8 couples from a transportation and cost perspective, but ANY custom tour can be planned for ANY group size. How to do this:
* Individually sign up for the basic Dublin-Only four day package (everyone on the prospective group tour).
* Coordinate/communicate with friends/family/company-mates to decide who wants to travel together and where/when.
* Have a single group representative speak directly with the Tenon Tours Custom Tour Representative to personally design your tour.
* Additional custom tour attendees contact the Tenon Tours Custom Tour Representative to add your name(s).
5. You may notice a line item on the Tenon Tours introduction page about additional day tours and events being TBA. In the months to come, I'll be working with Tenon Tours to arrange optional day tours, dinner venues and perhaps even a Golf outing. I'll be on a Recon Mission sometime this March to scout out options.
6. Early Arrival: Seriously consider arriving at the Herbert Hotel on Wednesday, August 26. I asked Tenon Tours to include this option, as activities begin on Thursday and you might not want "Jet Lag" to get in the way of a fun time. We may still party like Flowerchildren, but we're not 18 anymore! Also, I may be planning some optional activities on Thursday (with a relaxed wakeup time) to set the stage for the evening.
7. Travel Insurance: Tenon Tours does offer travel insurance. Upon submission of your deposit, you will receive a confirmation email that will include the option for travel insurance.
There will be more to come in the months ahead. As always, if there are any questions, feel free to contact me at
cegeyer@gmail.com
.
Beat Notre Dame 2020!
GQ
«
Previous Post